Today the girls and I somehow got to talking about the toys I loved as a child. One thing that I still wish they would bring back is the Magic Nursery Baby. The dolls came with a hat and a paper gown, and you couldn't tell if they were boys or girls. When you opened the doll, you put the paper gown in water and it dissolved to reveal a secret package that said boy or girl, and had an outfit inside. Some of the dolls were twins. I had wanted one for a while, and my grandpa sent me some money for my birthday so I asked my mom to take me to Toys-R-Us to buy one. (back then Toys-R-Us was the only cool place to buy your toys) I picked out a baby doll, got it home and .................... it was a twin!!!! We sent in the little card and not too long after I received my twin doll in the mail. Twin girls. I was over the moon! (I was a doll girl when I was little) Not long after the company had a special promotion where you could call their number and get another doll for free. I don't remember exactly what the conditions were to get the free doll, but I know I had the right qualifications! My mom didn't really see the point in having three of the same dolls, but any little girl that loves baby dolls knows where I was coming from. She gave in and ordered the doll, so then I had triplet girls! Pure bliss.



Of course now Bella is begging for one of these dolls, and doesn't understand how the company could stop making such a great toy. She wrote a letter to the postman to see what he could swing for her! haha!
Some other favorites of mine were the Cherry Merry Muffin Dolls:
I had the Berry Merry Muffin doll, which is the one with the blue dress and red hair. These dolls smelled SOOOOOO good! Oh how I wish I could get them for my girls!
Another favorite was Sweet Secrets, and I think one of these may still be buried in a little closet at my mom's house: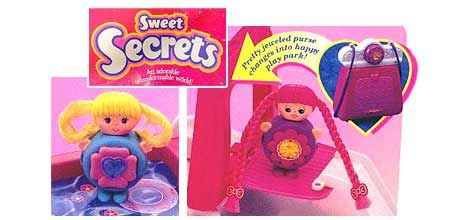 I'm pretty sure mine had plastic hair though.
I can't talk about favorites without mentioning Cupcake Dolls! I know my mom still has one of these in her Barbie box, but she seems to have misplaced her frosting hat

And of course, YumYums!
I still remember how horrified I was the night I woke up and found my Hug-A-Bunch doll had lost her head!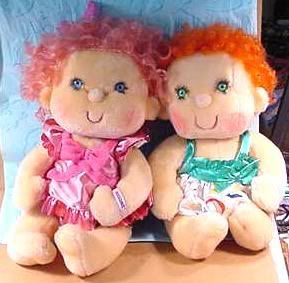 I had the one in the pink dress, and I had the movie too!
Last one I'll mention for now is Popples. I had a purple one, my cousin had a white one.
I know they brought these back for a while a few years back, but they are gone again.
I'm sure I had other things I loved, but these bring back the fondest memories for me.